Among the thousands of golf courses scattered throughout the world, some achieve high praise due to their dedication to providing an amazing experience for all clients. While there are a handful of these courses in the United States, a lot of great options are located in other international regions. These high-prestige courses are not cheap, and many of them are exclusive and unavailable for the public to engage with. Unless you are in the loop or full of riches, your chances of playing many of these courses are slim-to-none.
Luckily, X-Golf Richmond has created an indoor golfer's paradise that enables you to virtually play over 40 (as of now) courses from all over the world, including some fantasy courses that the kids will love. In this blog post, we will be going over the top 5 courses of popularity that are fully functional and ready to play at X-Golf Richmond.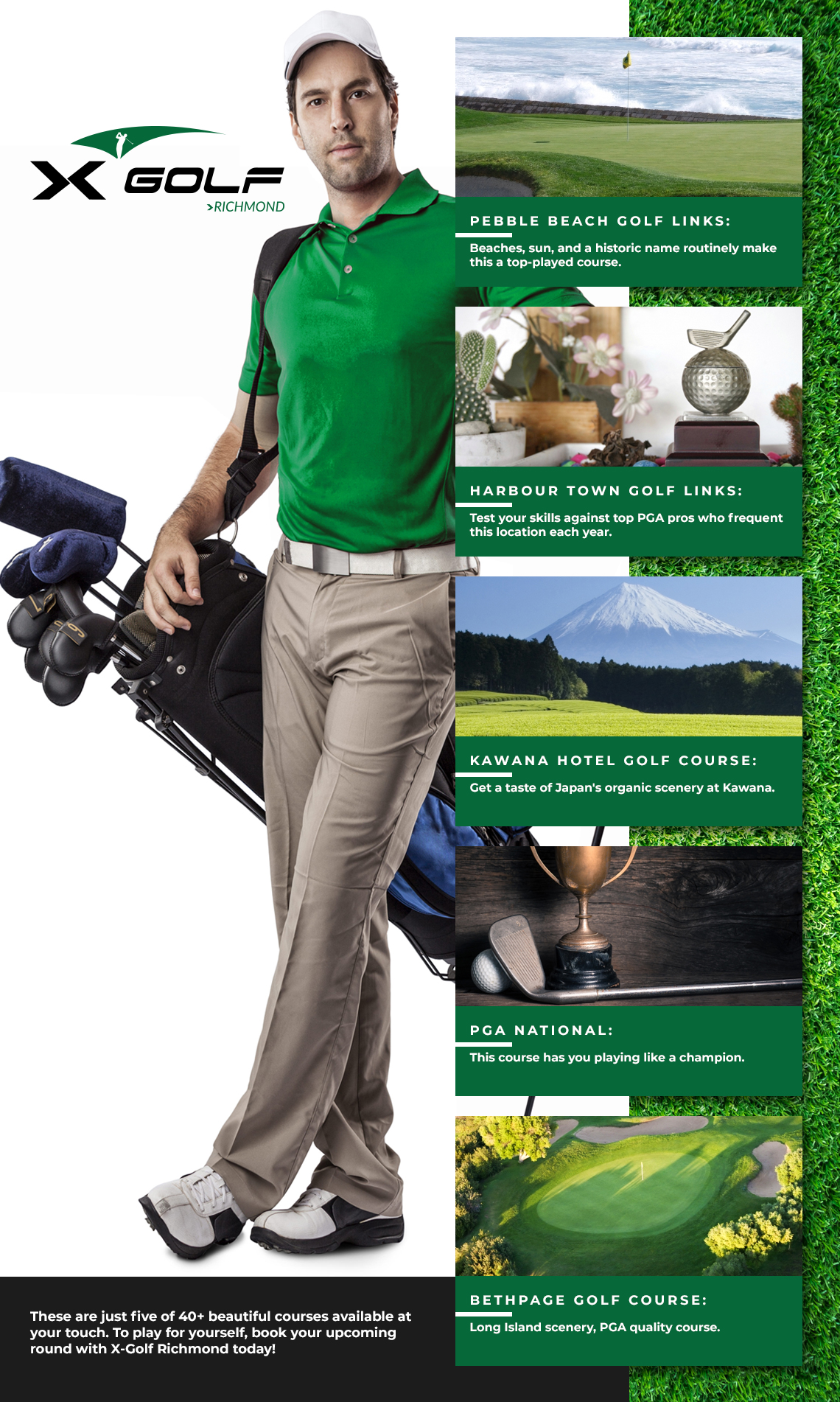 Pebble Beach Golf Links
Pebble Beach is one of the first golf course names that probably comes to mind, even if you are unfamiliar with golf. The name itself is that iconic. Located in Pebble Beach, California, this public golf course is one of the most beautiful and desired courses that you could play. This is due to the near-perfect conditions year-round, and the serene beach views that come along with the experience.
X-Golf is proud to teleport you to the beautiful pebble-filled beach to play a round of golf among the seagulls, and this course is easily one of the top-played X-Golf courses year after year.
Harbour Town Golf Links
Located in South Carolina, this public golf course rests in Harbour Town and shares its name with the geographic location. This course has been the site of annual PGA tour events for 50 years in a row, and it is working on that 51st annual event. In real life, this course is public, yet expensive and somewhat exclusive. Booking your trip to South Carolina could take you years and extreme devotion (if playing this course is your desired goal).
Forget all of the waiting, the bookings, and the headache. Harbour Town is a great location and the course is great, but you just want to play it now. With X-Golf, you can load up and play on this beautiful course at our facility by booking your round today!
Kawana Hotel Golf Course
The Kawana Hotel Golf Course is a resort located near Mount Fuji. It is one of the most praised and well-maintained courses not only in Japan but in the entire world. While the golf course at this destination spot is not the only attraction to be had, it definitely is one of the main reasons people keep visiting again and again! Exceptional views and pristine conditions make this a travel hot spot each year. Unfortunately, the Kawana Hotel itself requires a lot of preparation, planning, and spending to book a vacation there. Guests are the golfers at the resort that get to claim the tee times so if you think you will be able to just walk onto the course, don't hold your breath.
Instead, visit X-Golf, load up the Kawana Hotel course, and discover what all of the hype is really about. This not only saves you time but immense amounts of money too!
PGA National
The PGA National course is a resort in Palm Beach Gardens, Florida. It has been the site of numerous PGA events, including the Ryder Cup and PGA Championship. The PGA National resort is unique in the fact that the property is equipped with five full 18-hole courses. While it is a public course, you most likely will not play "The Champion," which is the main course that all of the events are hosted at.
Luckily for you, X-Golf offers this iconic course in our list of options. You can feel like a true PGA golfer while taking on "The Champion."
Bethpage Golf Course
One of the most cherished public courses in the United States, Bethpage Golf Course in Long Island, New York is an impressive work of art. Also sporting five 18-hole courses, Bethpage has routinely been the site of PGA events, including the 2019 PGA Championship. It is a public course, but the renowned "Black Course" will most likely not be one of the options of play for you.
Luckily, X-Golf Richmond hosts this course in the facility, and it is routinely one of the most popular courses to play by our guests.
Numerous Options, One Facility
Golf is expensive, but with X-Golf, you can live out your course fantasies all under one roof. For the best indoor golf experience on the planet, be sure to contact X-Golf Wexford today, and book your upcoming round to wherever you want to play! We hope to see you soon.